Highlight : K'Ho Village & Elephant waterfall

Vehicle: Mountain bike & support van
Tour type : Dalat Cycling

Destination : Elephant waterfall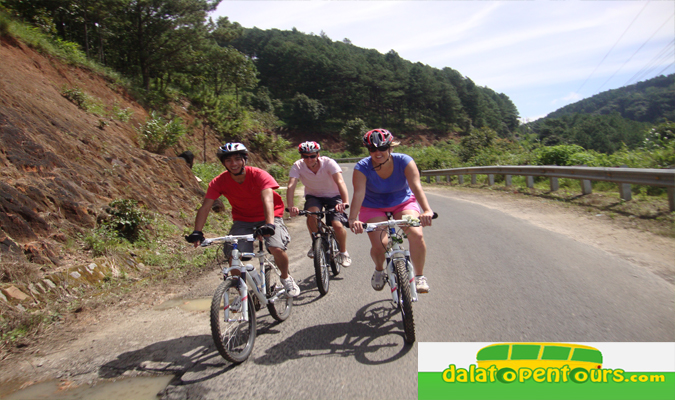 We pick up you from your hotel to our office, after you are satisfy with your helmet and bike size, our tour guide will lead you to the north part of Dalat city. Riding through scenic road with the endless green pine forest and vegetable farms surrounding the foot of Lang Bian mountain. Passing by the vegetable and Arabica coffee farm of K'Ho hill tribe of Mangling village, then  heads southwest through roses, carnations, gerbera farms with stunning views of Lang Bian Mountain before dropping 390 meters through a jungle forested valley. A nice time to contact with the daily lives of the  Chil minority people of Ta Nung village, before cycling down to the vast area of robusta coffee plantation of Nam Ban Town. You will be surprised with the way that people growing cricket and making  delicious meal at the cricket farm. Then we will visit the rice wine making and see how people from the highland making the excellent weasel coffee. We stop at a local silk throwing factory to view the interesting way of how silk is made. Then a visit to the fascinating Elephant Waterfall and the nearby Linh An pagoda. Enjoy the Vietnamese food at local restaurant before return to Dalat by our supported van.
The trip offers 35 km of riding.
Departure days: Daily.
Depart from: we pick you up at your hotel in Dalat.
End at: we drop you off at your hotel.
Start time: 08.00 am - Finish time: Depends on you - How fast do you ride?
Transportation: Front suspension mountain bike, supported vehicle depend on group size.
 
Meals: Vietnamese lunch
What to bring: Hat, sunscreen, repellent, camera, good shoes for biking
What is included: English speaking guide, all necessary forest and tourist permits, first aid kit, bike, helmet, and gloves
What is not: Personal major medical including evacuation insurance coverage is recommended.
Price: $ 60 USD per person ( group of 2)
Contact us at:
DALAT OPEN TOURS 
Internatinal Tour Operator License: 68-016/2017 TCDL - GP LHQT
Booking office address:  24 Phan Boi Chau Street, Dalat City, Lam Dong Province, Vietnam.
Email: This email address is being protected from spambots. You need JavaScript enabled to view it.
WhatsApp/Zalo/ Viber: +84918313696
Line ID: dalatopentours
WeChat ID ( 微信号 ) yuenandaleluyou
Tel: +842633755536
Hotline: +84918313696
biking Dalat countryside