Highlight : K'Ho Village & Elephant waterfall

Vehicle: Big motorbike
Tour type : Dalat sightseeing with English speaking Easy Rider on motorbike

Destination : Dalat countryside, Elephant waterfall

Depart, End at: Your hotel in Dalat, or at Dalat Open Tours office: 124 Ba Thang Hai Street, Dalat City, Vietnam.
Start time: flexible from 7:30 AM to 11:00 AM. Duration: 5 hours to 6 hours or full day 8 hours
Price: 600,000 VND per person, balance: $26 USD per person
 
Tour price includes:
  - An experienced English-speaking tour guide/ tour leader
  - Motorbike (Driving guide for pillion passengers)
  - Gas, helmets, water proof bag.
  - Entrance fees and travel permit.
  - 2 nights home stay or basic guest house
  
 Tour price excludes:
  - Drinks : fruit juice, cold water, local beer, soft drink.
  - Meals: different kinds of street food and dishes
  - Personal expenses
  - Gratuity, tip.
Note:
- This trip is designed for both self-riders and pillion passengers ( You enjoy the rides behind your driving guides).
- The off road jeep also can be arrange together with bike trip  if some of group members afraid to travel by motorbike
- We aim to please our self-riders and pillion passengers If tours offered by DALAT OPEN TOURS do not suit your needs. We would be more than happy to customize your trip.


Trip details:
Pick up at your hotel, then depart to the North of Dalat City.
Our riders will take you close to the foot of Lang Bian mountain, where to enjoy the beautiful view of vegetable terraces and the endless green valley. About 30 minutes to go down the valley to see how Dalat's Farmer working, also trekking up pine hill for break taking view and fresh air from the mountain.
Heading to the South-west via Mangling village to Van Than Flower village, the beautiful and quiet road with colorful of rose , daisy flower plantation from both sides. Strolling in the Van Than village, visit flower farms in green house and see how people prepare for packaging flower before sending to the market. 
Descending down the Ta Nung Pass, take the full view of Nam Ban town from the nice view point of the mountain, strolling to visit the local K'Ho hill tribe village.
Stop to visit the coffee plantation, before visit the traditional rice wine distillery family, see how people making weasel coffee. 
The next stop is where to see how silk worm is growing and to visit the silk factory.
Then transfer to get to Elephant Waterfall, enjoy the full view of the falls and the rushing river. Access to the foot of the falls through the windy cave , just like natural shower in the tour that you can take.
Resting at the local restaurant for lunch  with special traditional Vietnamese food.

Visit the nearby Linh An pagoda with giant Happy Buddha statue and the traditional hand weaving of local hill tribe.
Return to Dalat, on the way stop for having coffee at Me Linh coffee garden, relax and enjoy  coffee with nice mountain view.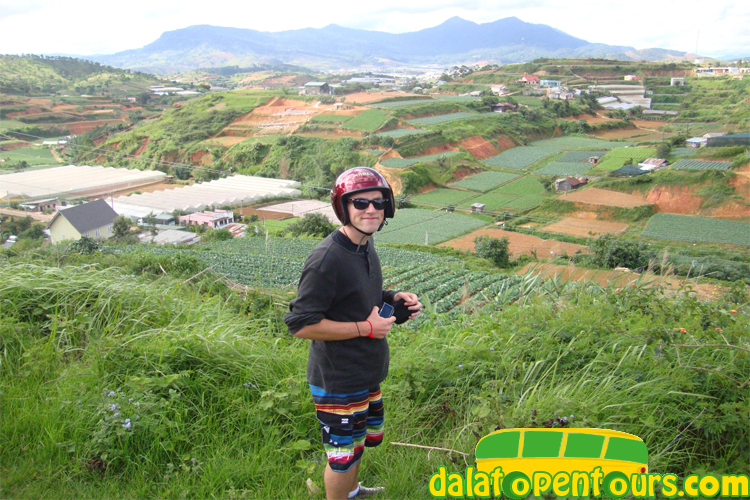 Lang Bian mountain view
Van Thanh flower village
Ta Nung moutain view
Silk worm growing village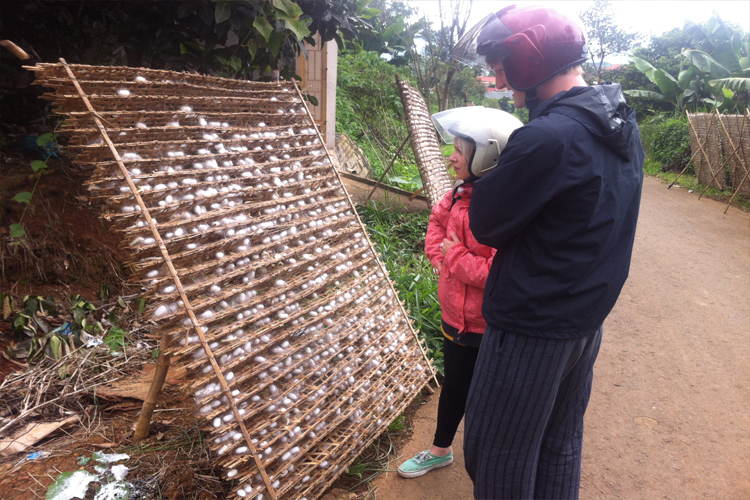 Elephant waterfall
Me Linh coffee farm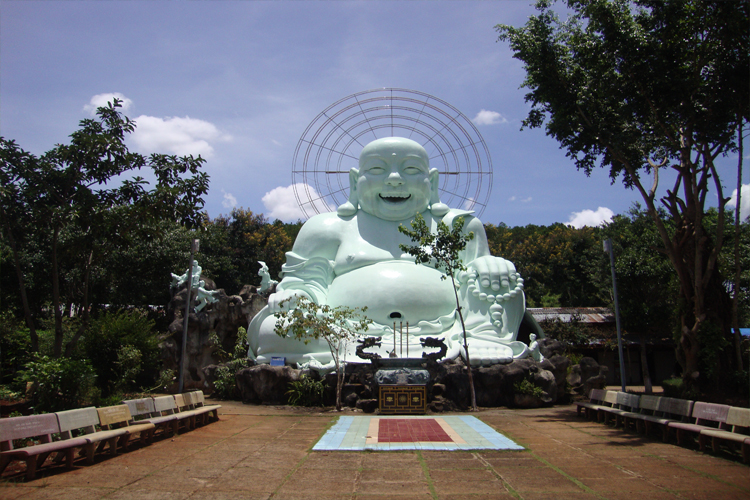 Linh An pagoda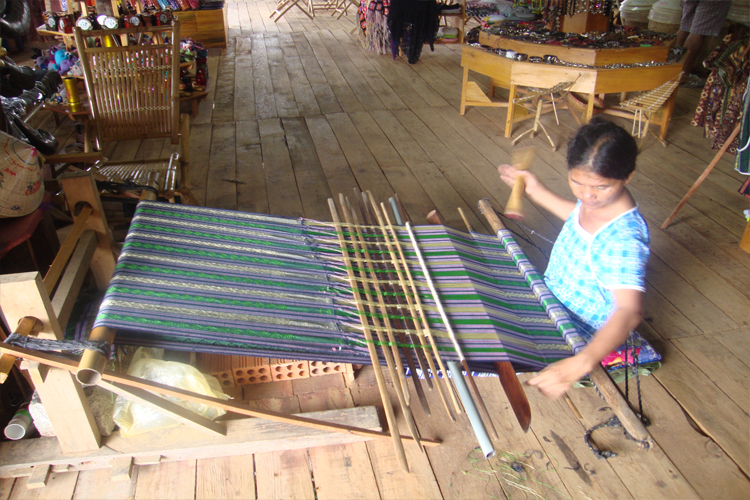 Local brocade weaving workshop
Step 1: enquire your trip:
Enquire your trip by contact us to check for the availability  via easy connecting way as follows:
Email: This email address is being protected from spambots. You need JavaScript enabled to view it.
WhatsApp/Zalo/ Viber: +84918313696
Line ID: dalatopentours
WeChat ID ( 微信号 ) yuenandaleluyou
Booking Office: DALAT OPENTOURS, address: 124,  3 Thang 2 Street, Dalat City Vietnam
Step 2: booking and payment:
After checking the availability trip and price, then you can follows the website to choose your method of payment:
1. Pay directly at our office with commitment time.
2. Book directly and pay by VISA or MASTERCARD with automatically set by the website: www.dalatvietnam.vn
3. Pay by bank transfer by request to Dalat Open Tours to send to you the online payment link:
Please send us an email with your information to create the payment link with require information as follows:
- Your full name:
- Your email address:
- Your phone number:
- Your Nationality:
- Your home  city:
- Your province / state:
After we receive your information request then we will reply to your email with link for online payment.
Once payment has been received, the trip voucher will be issued immediately, and therefore cannot be refunded. Confirmation will be sent to you within 24 hours.
 
Date/time changes may be possible, subject to availability - if required, please email us as soon as possible with details.
 

WELCOME TO DALAT OPEN TOURS RIDERS

Nothings can compare to freedom. If you really like to be outdoors, please come with us to expose the hidden charms of the country. We will be happy to escort you "into the wild" and "into the community".
The members of the Dalat Easy Rider Team decided to have the better way for tourist services. We want to work in discipline of the law. We have been registered. You will know us by our smiles, friendly approachable manner and DALAT OPEN TOURS RIDER CLUB JACKETS

We started our job with years of experiences so we also have English, French and German speaking riders who will give you a valuable insight into the people and the country. We will provide you with big motorbikes, safety helmets and raincoats in case it rains. Next to that, insurance is being paid for you during the ride. Your safety is our first priority.

Our purpose its not only working for today but more for tomorrow. It's why we do focus on how to customize your requests, your interests to make sure you really have a great time when going with us. We promise to serve you with enthusiasm from heart because your enjoyment is our happiness.

Thanks a lot for taking time to read this website. For any of your tour enquiry, questions, please leave them at This email address is being protected from spambots. You need JavaScript enabled to view it.  . We will response promptly.

Please visit our office to meet our guides, discuss about the itinerary, and get the best quotation.

Contact us at:

DALAT OPEN TOURS 

Internatinal Tour Operator License: 68-016/2017 TCDL - GP LHQT

Booking office address:  24 Phan Boi Chau Street, Dalat City, Lam Dong Province, Vietnam.

Email: This email address is being protected from spambots. You need JavaScript enabled to view it.

WhatsApp/Zalo/ Viber: +84918313696

Line ID: dalatopentours

WeChat ID ( 微信号 ) yuenandaleluyou

Tel: +842633755536

Hotline: +84918313696