White water rafting is one of the great challenges against natures. It's the thrill of going headlong into a wall of powerful water and feeling your raft bend as you push through it, straight into the next exhilarating rapid.

Price: 68 USD per person, (minimum 2 PAX)
Start:  7:30 AM
Finish time: between 3:30 – 5:30 PM
We will pick up & drop you off at your hotel

DURATION: About 7 - 8 hours base to base

About 3.5 hours on river
WHAT'S INCLUDED?
Guides, transportation, all equipment, lunch, drinking water, entrance fees.
 

IS RAFTING DANGEROUS?
Rafting is thrilling, exciting, wet, wild and unbelievably fun. However, as with all adventure sports, there is inherent and assumed risk involved. Risk contributes to the excitement, and is one of the reasons people enjoy rafting of all levels. The guides working for Dalat Open Tours are trained to minimize and manage risks, and statistically speaking, you're safer in a raft than in your car.

WILL I FALL OUT OF THE BOAT? WHAT SHOULD I DO IF I DO?
Plan "A" is always to stay in the boat, but believe it or not, many people love falling out of the raft, after the fact. It's exciting, but it can be disorienting and a little overwhelming at first. Many people have taken multiple trips and never fallen in. Some people swim on their first trip. It's all a part of rafting.


HOW FIT SHOULD I BE TO GO RAFTING?

You should be reasonably healthy, can swim and must be able to fit into the life vests supplied by us. Paddling can sometimes be tiring, but your guides will instruct you in paddling techniques in the safest way.


WHAT SHOULD I BRING AND WEAR?

Take a set of dry clothes and flip-flops to change into after your trip.


SO, WHAT'S GOING ON?
Rafting grade III – IV.
11km rafting (approximately 3.5 hours).
10 rapids.
Free jump from 7 or 11m.
Countryside attractions if desires (Elephant falls, silk factory, rice wine making, weasel coffee farm and minority village).

GUEST REQUIREMENTS


Min Age 15
Normal Physical
Health
Able to Swim
Sober
Please inform us of any medical conditions like asthma, epilepsy etc
Please contact us for vegetarian option!


WEATHER LIMITATIONS :

Rafting is probably the best activity you can do on rainy days!

 

 

We'll meet you up at our office or at your hotel to get you to the river in our vehicle.
The journey takes about one hour to the south of Dalat. At the river, there will be a safety talk, instruction and paddling techniques as well as pumping up our rafts before splitting up into teams of 2-3 guests.
Each raft will be instructed by a river guide who will give you more personal instruction and turn you into race team. After some training, the rafting heads down through easy rapids as a warm up and your guide will also do some tests.
You are then ready for the rapids of the main section. Enjoy the best and unique white water rafting through fantastic forests, countryside and the least explored areas of the highlands in Vietnam.
After being on the river for approx. 3.5 hours, we'll return to our vehicle to dry off,
have lunch and drive back to Dalat. Stop to visit local attractions such as Elephant waterfall, silk factory, coffee platantion.....along the way if desired.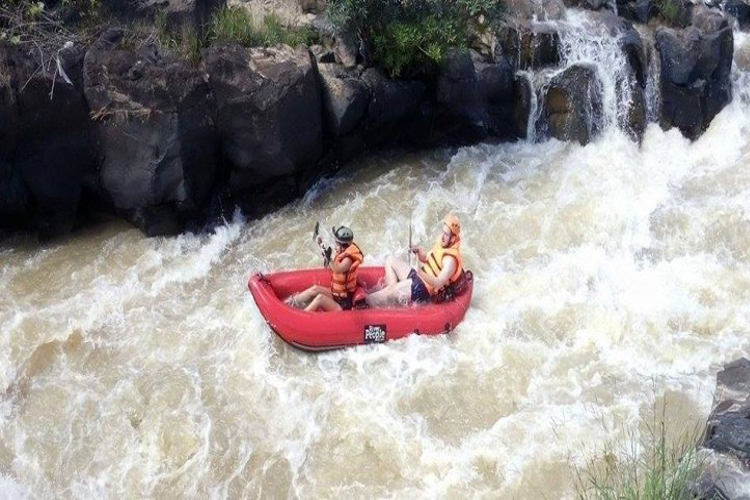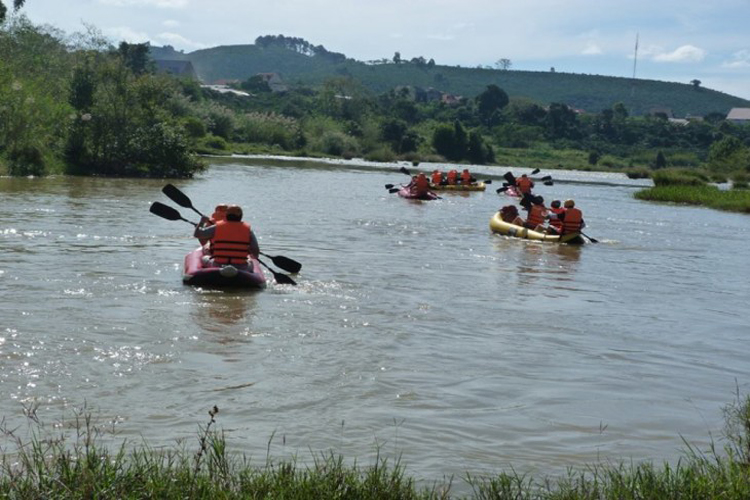 Step 1: enquire your trip:

Enquire your trip by contact us to check for the availability  via easy connecting way as follows:

Email: This email address is being protected from spambots. You need JavaScript enabled to view it.

WhatsApp/Zalo/ Viber: +84918313696

Line ID: dalatopentours

WeChat ID ( 微信号 ) yuenandaleluyou

Booking Office: DALAT OPENTOURS, address: 124,  3 Thang 2 Street, Dalat City Vietnam

Step 2: booking and payment:

After checking the availability trip and price, then you can follows the website to choose your method of payment:

1. Pay directly at our office with commitment time.

2. Book directly and pay by VISA or MASTERCARD with automatically set by the website: www.dalatvietnam.vn

3. Pay by bank transfer by request to Dalat Open Tours to send to you the online payment link:

Please send us an email with your information to create the payment link with require information as follows:

- Your full name:

- Your email address:

- Your phone number:

- Your Nationality:

- Your home  city:

- Your province / state:

After we receive your information request then we will reply to your email with link for online payment.

Once payment has been received, the trip voucher will be issued immediately, and therefore cannot be refunded. Confirmation will be sent to you within 24 hours.
 
 Date/time changes may be possible, subject to availability - if required, please email us as soon as possible with details.
 
DALAT WHITE WATER RAFTING

 

DALAT OPEN TOURS 

Internatinal Tour Operator License: 68-016/2017 TCDL - GP LHQT

Booking office address:  24 Phan Boi Chau Street, Dalat City, Lam Dong Province, Vietnam.

Email: This email address is being protected from spambots. You need JavaScript enabled to view it.

WhatsApp/Zalo/ Viber: +84918313696

Line ID: dalatopentours

WeChat ID ( 微信号 ) yuenandaleluyou

Tel: +842633755536

Hotline: +84918313696
View other topic