The most convenient van to travel between  Ho Chi Minh City to Dalat city, daily departure at 09:00 AM, 12:00 PM and 23:00 PM.
Route: Ho Chi Minh City ( Sai Gon) to Dalat City
Van using type: 9 seater D Car X Limousin Van.
Pick up time: 45 minutes before departure time.
Departure time: 09:00 AM, 12:00 PM, 23:00 PM
Pick up place: from your hotel from District 1, 3, 5, and Center of Ho Chi Minh City.
Drop off place: your hotel within 5 km from Dalat City Center.
Duration: 7 hours.
1 main stop on the way for restroom.
Price:
- 2 front seats: 300,000 VND per person.
- 4 midle seats: Massage Seat: 400,000 VND per person.
- 3 back seats: 350,000 VND per person.
- Rent the van 1 way from Ho Chi Minh City to Dalat ( flexible choosing departure time): 4,500,000 VND / 1 van / 1 way trip.
Vietnamese Tet Holiday (From 20 January 2019 to 03 February 2019), please contact us to check '' Seat Availability and Price".
Special Notice: 
- Holidays are subject for an additional surcharge, due to special holidays and you must book at least 10 working days in advance; 2019 Vietnamese Holidays, New Year's Day: January 1st - January 4th, Spring Festival (Tet Holiday) : January 20 st - February 14th.
- For holidays booking "the default price " set by online booking payment is concerned as the deposit of the service if you do the online payment and the additional charge will be pay directly to our driver or at our office before using the services.
- Please, contact us to get the price and checking for available seat.
- Apart from the above mentioned, the price is considered as normal price.
Van photos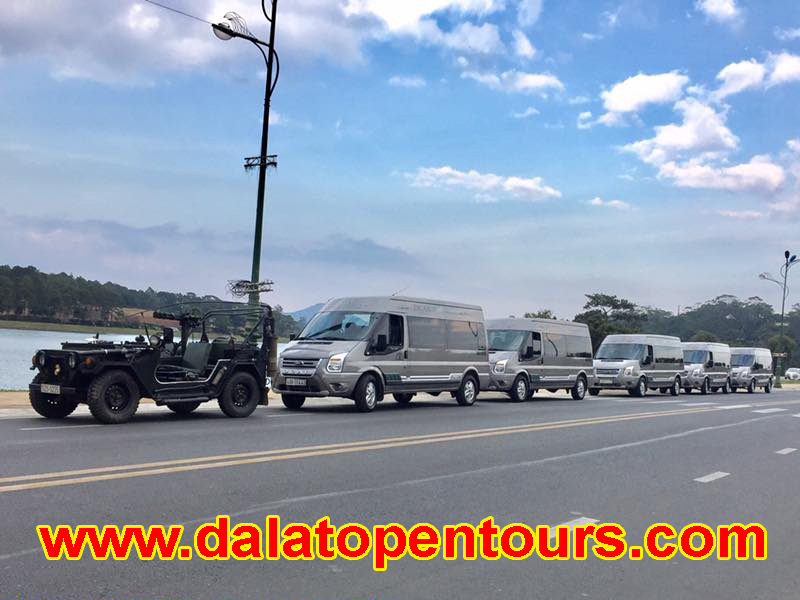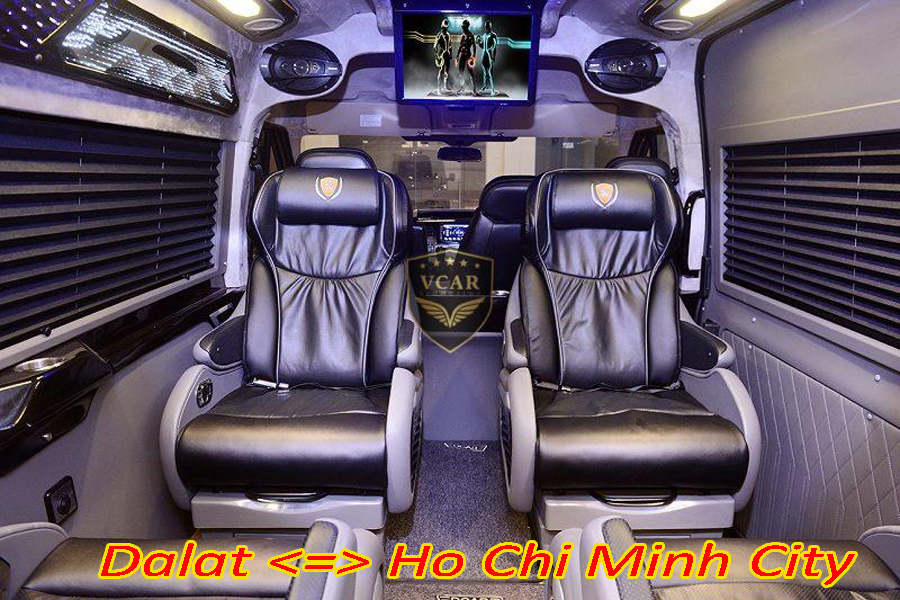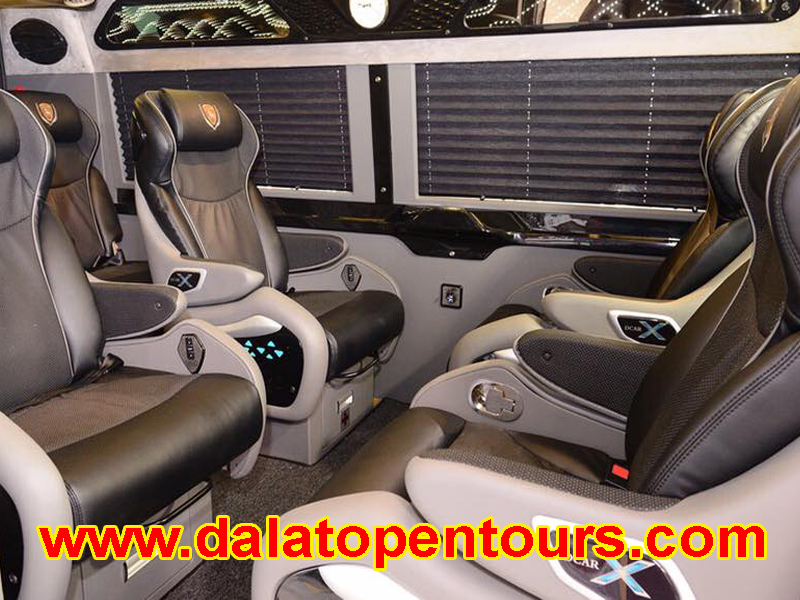 Online Booking Term & Condition
Step 1: enquire your seats:
Enquire your bus ticket by contact us to check for the availability seats via easy connecting way as follows:
Email: This email address is being protected from spambots. You need JavaScript enabled to view it.
WhatsApp/Zalo/ Viber: +84918313696
Line ID: dalatopentours
WeChat ID ( 微信号 ) yuenandaleluyou
Booking Office: DALAT OPENTOURS, address: 124,  3 Thang 2 Street, Dalat City Vietnam
Step 2: booking and payment:
After checking the availability seats and price, then you can follows the website to choose your method of payment:
1. Pay directly at our office with commitment time.
2. Book directly and pay by VISA or MASTERCARD with automatically set by the website: www.dalatvietnam.vn
3. Pay by bank transfer by request to Dalat Open Tours to send to you the online payment link:
Please send us an email with your information to create the payment link with require information as follows:
- Your full name:
- Your email address:
- Your phone number:
- Your Nationality:
- Your country:
- Your province:
After we receive your information request then we will reply to your email with link for online payment.
Once payment has been received, the bus ticket will be issued immediately, and therefore cannot be refunded. Confirmation will be sent to you within 24 hours.
 
 Date/time changes may be possible, subject to availability - if required, please email us as soon as possible with details.
 
 Ticket prices on this site are inclusive of tax, service charges and credit card charges - the price shown is the price you pay.
 
 If you are travelling with a large amount of luggage or sports equipment, We may charge you an additional fee for this. We cannot advise on this charge, as it will be charged at time of boarding, directly by the bus operators.
 
 Hotel collection is only available on certain routes, and then only for central hotels and those on the bus route. If your hotel does not qualify, we will advise you where you need to go to wait for your bus.
After booking the open-date-ticket, passenger will have a ticket (voucher) which have serial number, and valid to use in 1 month.
How to use "the open - date-ticket": please choose your departure time (if multiple choices) and  reconfirm your ticket for your next destination at our office in your residence city , can be call us from your hotel; or email us at This email address is being protected from spambots. You need JavaScript enabled to view it.  your ticket code (voucher serial number) to register your pick up place and get bus seat number , at least  1 day (24 hours) before departure date.
What passengers need to do before departure:
- Passenger are recommended to be at the meeting point for pick up at least 45 minutes before departure.
- Each passenger can carry on board a free baggage of maximum weight of 20kg.
- Ticket refund and change should be made fefore departure at least 24 hours. in case of group tickets, only ticket refund is permitted and should be made at least 24 hours before departure. refund and change fare are applied.
- Passengers are considered as proper e- Ticket owners with valid Boarding Pass and travel/ identification document such as ID card with photo, receipt, bus ticket or confirmation of services by email.
{/tabs}