Bus Nha Trang to Dalat
Nha Trang to Dalat daily bus or Limousin Van  at 07:30 AM, 08:30 AM, 09:30 AM, 11:30 AM, 13:00 (01:00  PM), 15:00 (03:00 PM), 17:00 (05:00 PM)
1. D Car LIMOUSIN VAN, 
Bus type: Ford D Car Limousin 9 seater or Skubus Huyndai Solati 11 seater model 2019
Pick up time: from 45 minutes before departure time, pick up  at your hotel within 5 km from Nha Trang City Center.
Duration: 3 & half hours.
Depature time: 07:30 AM,  08:30 AM, 09:30 AM, 13:00 (01:00 PM), 15:00 ( 03:00 PM)
Ticket price: 180,000 VND per person. 
Promotion price: 160,000 VND per person (apply from 15 August 2019 to 13 September 2019)
Depature time:  17:00 ( 03:00 PM) Ticket price: 180,000 VND per person. 
Departure at: 04 Trần Phú Street ( Muong Thanh Apartment) , Nha Trang city or we pick up at your hotelwithin 5 km from  in Nha Trang city center 
Arrival at: 24 Phan Boi Chau Street, Dalat City or we drop off at your hotel within 5 km from Dalat City Center
Note: 
Please contact us to check '' Seat Availability seat number  pick up time from your location and drop off location ".
Booking process:  After checking the seat availability, we will hold the seat you select in normaly  in 1 hour  or with the commitment time. You can send us an email to request an online payment link or pay directly at our webiste by click to the button "book your ticket" and follows the process to pay. Once payment has been received, the bus ticket will be issued immediately, and therefore cannot be refunded. Confirmation will be sent to you within 24 hours.
Please note that all online credit transactions are subject to a 3% surcharge with all cards .
Contact us at:
Email: This email address is being protected from spambots. You need JavaScript enabled to view it.
WhatsApp/Zalo/ Viber: +84918313696
Line ID: dalatopentours
WeChat ID ( 微信号 ) yuenandaleluyou
Booking Office: DALAT OPENTOURS
Address: 24 Phan Boi Chau Street, Dalat City Vietnam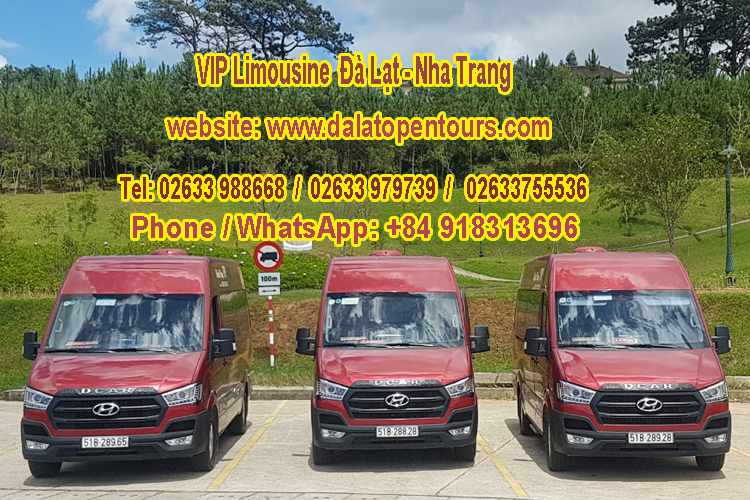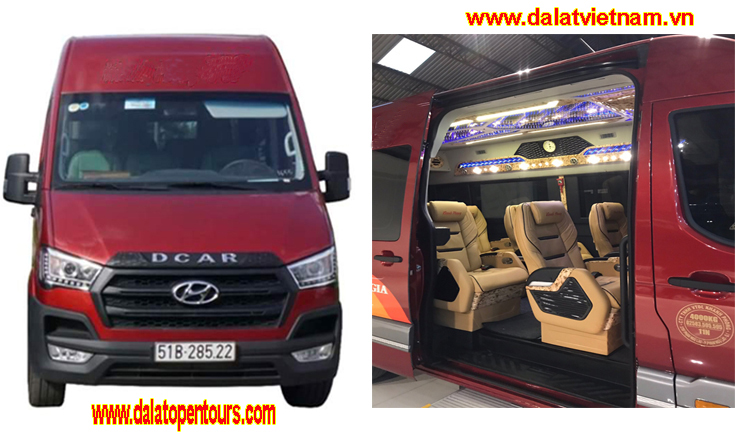 Special Notice: 
- Holidays are subject for an additional surcharge, due to special holidays and you must book at least 10 working days in advance; 2019 Vietnamese Holidays, New Year's Day: January 1st - January 4th, Spring Festival (Tet Holiday) : January 20 st - February 14th.
- For holidays booking "the default price " set by online booking payment is concerned as the deposit of the service if you do the online payment and the additional charge will be pay directly to our driver or at our office before using the services.
- Please, contact us to get the price and checking for available seat.
- Apart from the above mentioned, the price is considered as normal price.
 

2. Bus NHA TRANG to DALAT


 Bus  NHA TRANG to DALAT

Bus type: SEATING BIG COACH 30, SPACIOUS LEG ROOM.

Pick up time: from 45 minutes before departure time.

Duration: 4 hours.

Departure time: 08:00 AM, 13:00 PM

Ticket price: 120,000 VND per person.

Note: 

Please contact us to check '' Seat Availability seat number  pick up time from your location and drop off location ".

Booking process:  After checking the seat availability, we will hold the seat you select in normaly  in 1 hour  or with the commitment time. You can send us an email to request an online payment link or pay directly at our webiste by click to the button "book your ticket" and follows the process to pay. Once payment has been received, the bus ticket will be issued immediately, and therefore cannot be refunded. Confirmation will be sent to you within 24 hours.

Please note that all online credit transactions are subject to a 3% surcharge with all cards .

Contact us at:

Email: This email address is being protected from spambots. You need JavaScript enabled to view it.

WhatsApp/Zalo/ Viber: +84918313696

Line ID: dalatopentours

WeChat ID ( 微信号 ) yuenandaleluyou

Booking Office: DALAT OPENTOURS

Address: 24 Phan Boi Chau Street, Dalat City Vietnam

Special Notice: 
- Holidays are subject for an additional surcharge, due to special holidays and you must book at least 10 working days in advance; 2019 Vietnamese Holidays, New Year's Day: January 1st - January 4th, Spring Festival (Tet Holiday) : January 20 st - February 14th.
- For holidays booking "the default price " set by online booking payment is concerned as the deposit of the service if you do the online payment and the additional charge will be pay directly to our driver or at our office before using the services.
- Please, contact us to get the price and checking for available seat.
- Apart from the above mentioned, the price is considered as normal price.

 

Bus photos: