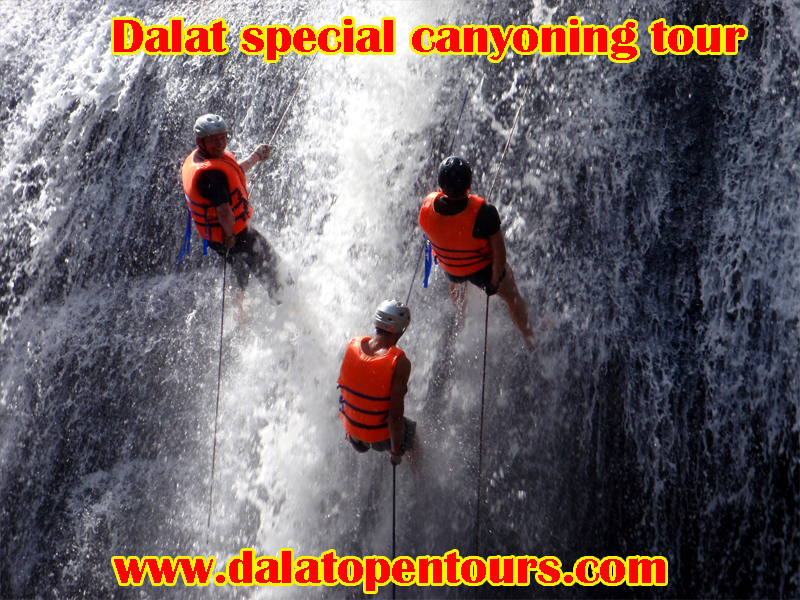 One-day trip, south of Da Lat, where you will navigate your way through a canyon and learn how to use the ropes. Water Abseiling / Canyoning is one of the most modern adventure sports that allow you to discover the wonders and mysteries of nature in its purest form. Trekking, jumping and swimming, you will discover fantastic canyons and face the challenges of incredible gorges. During this unique journey of unforgettable experiences you will be accompanied by Canyoning professionals and expert guides.
1.Departure Time:
 4 slots/day start at Datanla waterfall at: 8:00 AM , 9:00 AM, 10:00, 11:00 AM,  everyday.
 Maximum 12 people/slot.
2. Depart from:
 We'll pick you up at your hotel.
 
 3. Skills:
 There is no need in previous experience or special physical training for participation in our tour. Canyoning tour is for all level of player, even you're the beginner.
 Children should be from 1,2m tall.
 People have personal major medical including evacuation insurance coverage is not recommended to join this tour.
 4. What to prepare:
 Hat, sunscreen, clothes for swimming, repellent, camera, sport sandals/water shoes.
 Inappropriate or personal stuff will be kept in your own locker at the Base Camp.
 Serve yourself a big breakfast before departure time.
 Every alcohol drink or stimulant is prohibited.
Note: please, inform us your shoes size if you would like to borrow the shoes, and tell us if you have any dietary requirement for picnic lunch.
 
 5. Price: 1,670,000 VND/person balance: 72 USD, maximum 12 people/joining slot
Including: English speaking professionally trained guide, all necessary forest and tourist permits, first aid kit, snack, purified drinking water, transport as listed above and rappelling gear. 
To Datanla waterfall trailhead, practice abseiling techniques, then explore pristine forest and 6 waterfalls along 4 km of Datanla river with 5 abseils, slide over some rapids and swim. 

After being picked up at the hotel, we drive along picturesque road to the South of the city, head the Datanla waterfall – where we start our journey.
 At the Base Camp, you'll learn the basics of knot tying, harness wearing, hardware and proper rappelling technique. 
 After the guides are satisfied that you've got it down, you'll head down your first rappel. It is an exciting 18 meter descent into the river below, right next to a 30-meter beautiful waterfall.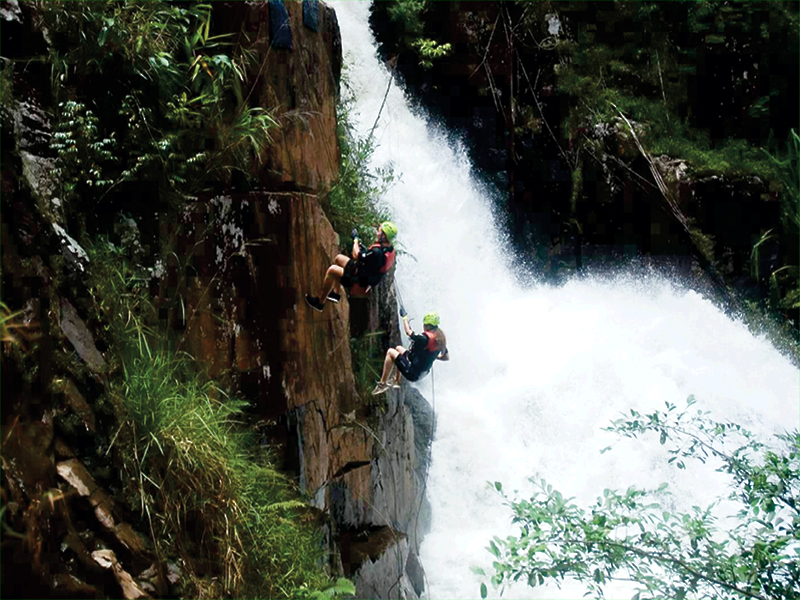 From here, we head further down the canyon to a spectacular Tyrolean Traverse that drops down and over a waterfall and the river.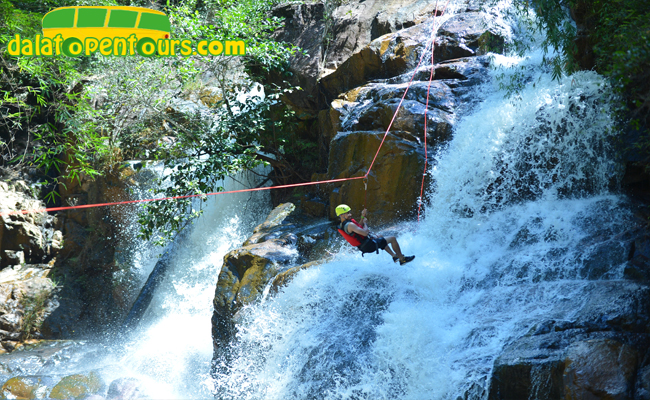 Keep your legs exploring the forest and see with your own eyes all this wild nature's wealth and spendon. Natural water sliding waiting for you at the next stop, with many kinds of sliding that you can try in couple of goes before continuing downriver.

 Here comes the biggest waterfall with some real abseiling through the water from the height at 25 meters. You will need good instruction and techniques from our canyoning experts to get over the hardest fall.

 Wanna challenge your mental power? Let's try the free jump at 7-meter cliff! Take a deep breath, jump, deep down river below and then feel so cool when you're up in the water. 

 The last abseil is the most special one with the thrilling fall named Washing Machine with the height at 13 meters. It will spin you around, clean your body and push you out of the falls.
Hiking up to the highway and meet our vehicle for transport back to town.
 

Step 1: enquire your trip:

Enquire your trip by contact us to check for the availability  via easy connecting way as follows:

Email: This email address is being protected from spambots. You need JavaScript enabled to view it.

WhatsApp/Zalo/ Viber: +84918313696

Line ID: dalatopentours

WeChat ID ( 微信号 ) yuenandaleluyou

Booking Office: DALAT OPENTOURS, address: 24,  Phan Boi Chau Street, Dalat City Vietnam

Step 2: booking and payment:

After checking the availability trip and price, then you can follows the website to choose your method of payment:

1. Pay directly at our office with commitment time.

2. Book directly and pay by VISA or MASTERCARD with automatically set by the website: www.dalatvietnam.vn

3. Pay by bank transfer by request to Dalat Open Tours to send to you the online payment link:

Please send us an email with your information to create the payment link with require information as follows:

- Your full name:

- Your email address:

- Your phone number:

- Your Nationality:

- Your home  city:

- Your province / state:

After we receive your information request then we will reply to your email with link for online payment.

Once payment has been received, the trip voucher will be issued immediately, and therefore cannot be refunded. Confirmation will be sent to you within 24 hours.
 
Date/time changes may be possible, subject to availability - if required, please email us as soon as possible with details.

DALAT OPEN TOURS 

Internatinal Tour Operator License: 68-016/2017 TCDL - GP LHQT

Booking office address:  24 Phan Boi Chau Street, Dalat City, Lam Dong Province, Vietnam.

Email: This email address is being protected from spambots. You need JavaScript enabled to view it.

WhatsApp/Zalo/ Viber: +84918313696

Line ID: dalatopentours

WeChat ID ( 微信号 ) yuenandaleluyou

Tel: +842633755536

Hotline: +84918313696