01 day open tour Dalat to Mui Ne then Ho Chi Minh City or Nha Trang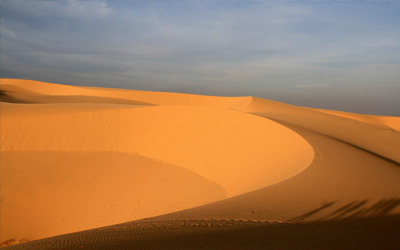 Tour itinerary:
- From 7:15 AM to 08:00 AM pick up at  your hotel by Dalat Open Tours tourist bus, then depart to Mui Ne.
The bus from Dalat to Mui Ne will take about 4 & half hours. 1 main rest stop on the way at the end of Dai Ninh pass for 20 minutes.
- 12:30 PM arrive at our office in Mui Ne. Free time for leisure, lunch on guest's account.
- 14:00 PM : start your exciting trip to visit Mui Ne by 4 WD Jeep - the highlight of the day is the beautiful view of sunset from the sand dune.
After departure from the office, our jeep will take you to the Fairy Stream; walking along the  brook, take the natural foot massage of the cool water running with soft sand and enjoy to take photos with the sand canyons.
The next place of the tour wil be the Mui Ne fishing village, where you can strolling in the village, study about how to make Vietnamese famous fish sauce "Nuoc Mam" or to see the daily activity of fisherman, with many colorful boats.
Continues the trip to the windy White Sand Dune, where you can walk and enjoy the marvelous view of the dunes, which changing shapes right after the wind blowing, where you can hire an UTV to explore the most beautiful desert of Vietnam or event rent the local sand slide board for a funny time with friends. Create your own photos of the purest view from sand dune to the two famous lotus lakes of the areas.
On the way returning to Mui Ne center, a final stop is to visit the Red Sand Dune, get the peaceful atmosphere of the dune coming together with the glory light of the sunset reflect from the sea.
18h30 PM: get back to our office, dinner on your own free for your leisure until bus pick up to Ho Chi Minh City or to Nha Trang.
Option 1:
00:30 AM: take the sleeper bus from Mui Ne to Ho Chi Minh City.
05:00 AM arrive in Ho Chi Minh city, end of tour.
Option 2:
00:00 AM: take the sleeper bus from Mui Ne to Nha Trang.
05:00 AM arrive in Nha Trang city, end of tour.
Tour price: 500,000 VND per person.
Included:
Tourist bus from Dalat to Mui Ne,
Mui Ne Jeep transfer to visit White Sand Dunne, Red Sand Dunne, Fairy Stream and Fishing Village.
Exclude: 
- Fairy stream entrance fee: 15,000 VND per person.
- UTV  at White Sand Dunne.
+ Small UTV: 250,000 VND / 30 minutes.
+ Big UTV: 500,000 VND / 30 minutes.
+ Private Jeep ( group size 4-6pax) accross White Sand Dunne: 700,000 VND / Jeep round trip.
+ Jeep ticket accross White Sand Dunne join group 80,000 VND VND /  small trip.
Excluded: other private expense.

Mui Ne Jeep Tour

Contact us at:
DALAT OPEN TOURS AND TRANSPORT SERVICE CO.LTD
internatinal Tour Operator License: 68-016/2017 TCDL - GP LHQT
Booking office address:  24 Phan Boi Chau Street, Dalat City, Lam Dong Province, Vietnam.
Email: This email address is being protected from spambots. You need JavaScript enabled to view it.
WhatsApp/Zalo/ Viber: +84918313696
Line ID: dalatopentours
WeChat ID ( 微信号 ) yuenandaleluyou
Tel: +842633755536
Hotline: +84918313696