Highlight : K'Ho Village & Elephant waterfall

Vehicle: Car or Van
Tour type : Dalat sightseeing daily group tour

Destination : Elephant waterfall
Depart, End at: we pick up and drop off at your hotel in Dalat
Start Time: 8:30 am. Finish Time: from 3.30 PM to 04:00 PM.
 
What to Bring: Hat, sunscreen, camera and sport sandal or shoes.
What is Included: English speaking guide, car or van depends on group size, all entrance fees and tourist permits.
What is not included: Lunch, Crazy House entrance fees,  personal major medical including evacuation insurance coverage is recommended.
Price per person:  260,000 VND Join in group tour.

08:15 to 08:30 AM, picking you up from your hotel and leaving the city centre for a wonderful excursion of Elephant falls. The first stop en route must be at Van Thanh traditional flower farm village. Taking photos of flowers planted in the greenhouses of local farmers will be a great trip collection for your journey in the southern central highlands. Keep heading up to the coffee plantation at Ta Nung village to find out what amazing procedures of coffee processing . Savoring local coffee on the terrace of the long house and enjoying the beautiful panoramic scenes of a lake and coffee fields. Another option is that you can also witness a fantastic model of breeding and making local weasel coffee- one of the best coffee bean in Dalat city by farmers there.
The next stop is at a cricket farm of a young guy in the village modeling for poverty elimination and livelihood option for the youth in the region. Perhaps, you should also try some yummy fried crickets with chili sauce for a new experience.  A local rice wine distillery stop will make your trip more unforgettable as well as the weasel farm.
Taking a short drive to get to a silk worm factory where sericulture has been developed for more than 100 years by local people in the region . Breeding silkworm and planting mulberries have become the traditional livelihood for the local farmers. Tourists will behold a great process of a silkworm spinning and enclosing themselves into a cocoon and of unraveling filament from cocoon, ect,. Local silk productions here are very qualitative and beautiful so just make your pocket happier.
The last stop will be at Elephant falls one of the most beautiful waterfalls in Dalat and Linh An pagoda inhabiting nearby. Trekking from the top to the bottom of the falls for photos shoot is very nice but a little bit steep and slippery during the wet season around  April till November. Bringing good walking shoes with you is recommended. Back to Dalat city centre and visit the Crazy House, one of the Ten Stranger House in the world. Back to your hotel, end of tour.
Places to visit:
Van Thanh Flower Village:
The village produces a variety of the flowers with a total area of over 200 hectares. Roses, carnations, gerberas and lilies planted in the greenhouses by local farmers
Coffee plantation, vegetable farms:
Study of coffee planting and manufacturing especially weasel coffee, the most famous coffee brands in the Central Highlands Savoring your own coffee flavor and taking fantastic photos of coffee fields surrounding.
Elephant waterfall:
0ne of the most beautiful waterfalls in Dalat , and 30m in height.
Trekking from the top to the bottom of the falls for photos shoot is very nice. It is cool to discover the windy cave and take natural shower at the foot of the waterfall.
Traditional silk factory: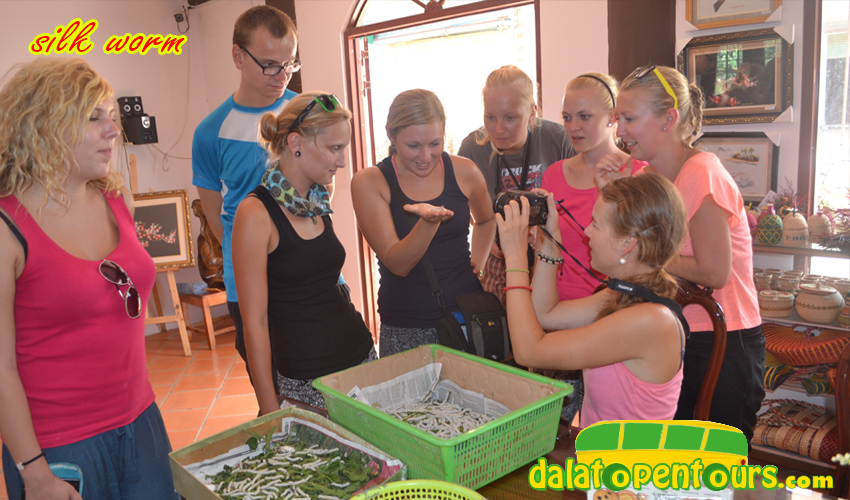 See how local people breed silkworm and plant mulberries; study a great process of a silkworm spining & enclosing themselves into a cocoon and of unravelling filament from cocoon., etc.
Linh An Pagoda: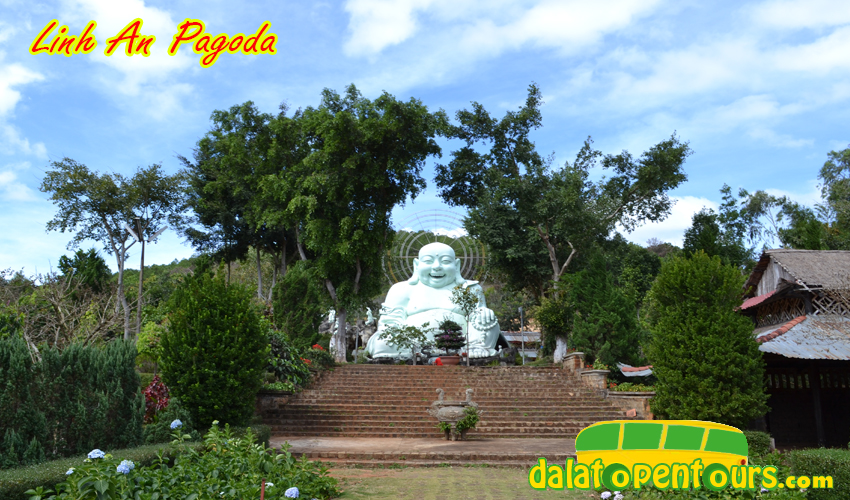 The modern architecture in harmony with the nature, impressive with the two flanking dragons leading to the shrine & the giant statue of Happy Buddha in a peaceful greenery covered garden.
Cricket farm, silk worm growing, traditional brocade weaving: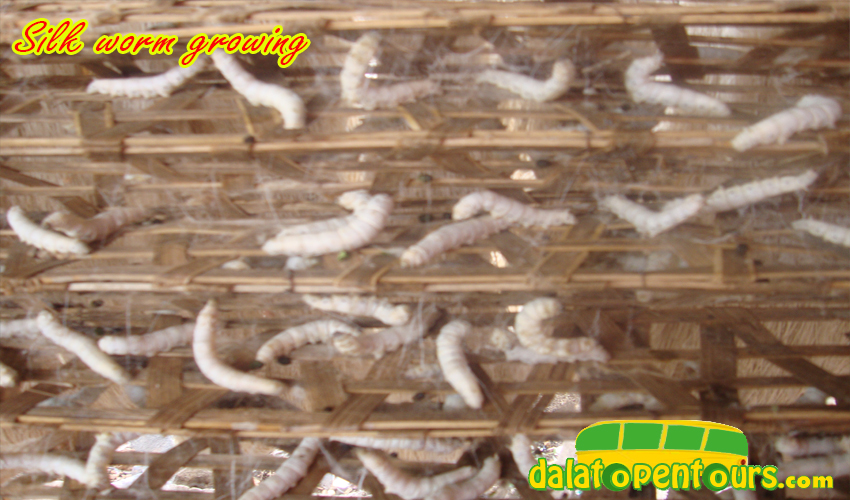 Visit the family of a young man who had chosen breeding crikets for poverty elimination. You may try some yummy fried crikets with chilly sauce for a new experience.
Rice wine distillery: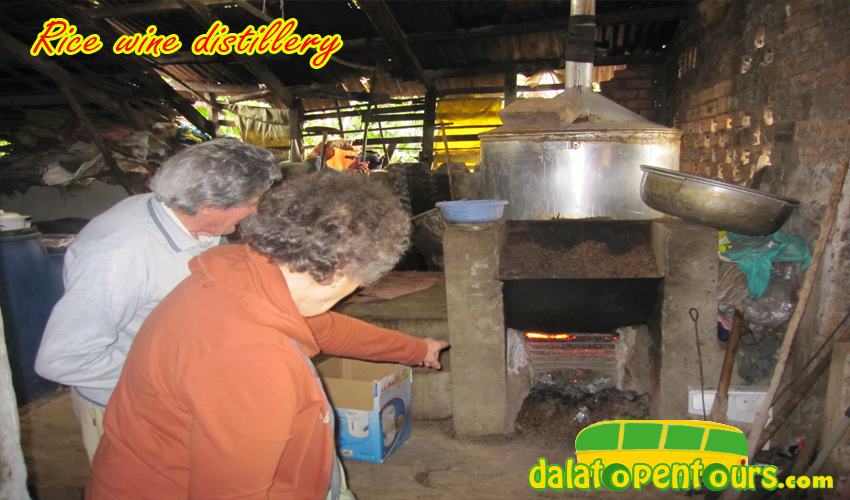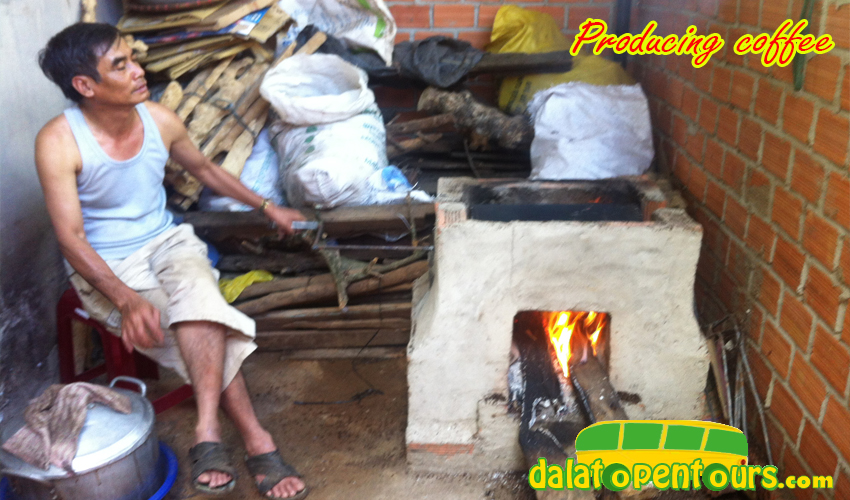 Let find out how the local farmer make rice wine, taste a little bit, and see how local people do their best way in recycling from all of their farming products.
The Crazy House:
One of the ten strangest houses on the World with special architecture. The Crazy House project to entice people back to nature, it is also a guesthouse with some rooms named of Bamboo, Tiger, Ann ,.ect. (Pay the entrance fee on your own budget).
 

Step 1: enquire your trip:
Enquire your trip by contact us to check for the availability  via easy connecting way as follows:
Email: This email address is being protected from spambots. You need JavaScript enabled to view it.
WhatsApp/Zalo/ Viber: +84918313696
Line ID: dalatopentours
WeChat ID ( 微信号 ) yuenandaleluyou
Booking Office: DALAT OPENTOURS, address: 124,  3 Thang 2 Street, Dalat City Vietnam
Step 2: booking and payment:
After checking the availability trip and price, then you can follows the website to choose your method of payment:
1. Pay directly at our office with commitment time.
2. Book directly and pay by VISA or MASTERCARD with automatically set by the website: www.dalatvietnam.vn
3. Pay by bank transfer by request to Dalat Open Tours to send to you the online payment link:
Please send us an email with your information to create the payment link with require information as follows:
- Your full name:
- Your email address:
- Your phone number:
- Your Nationality:
- Your home  city:
- Your province / state:
After we receive your information request then we will reply to your email with link for online payment.
Once payment has been received, the trip voucher will be issued immediately, and therefore cannot be refunded. Confirmation will be sent to you within 24 hours.
 
Date/time changes may be possible, subject to availability - if required, please email us as soon as possible with details.
DALAT OPEN TOURS 
internatinal Tour Operator License: 68-016/2017 TCDL - GP LHQT
Booking office address:  24 Phan Boi Chau Street, Dalat City, Lam Dong Province, Vietnam.
Email: This email address is being protected from spambots. You need JavaScript enabled to view it.
WhatsApp/Zalo/ Viber: +84918313696
Line ID: dalatopentours
WeChat ID ( 微信号 ) yuenandaleluyou
Tel: +842633755536
Hotline: +84918313696