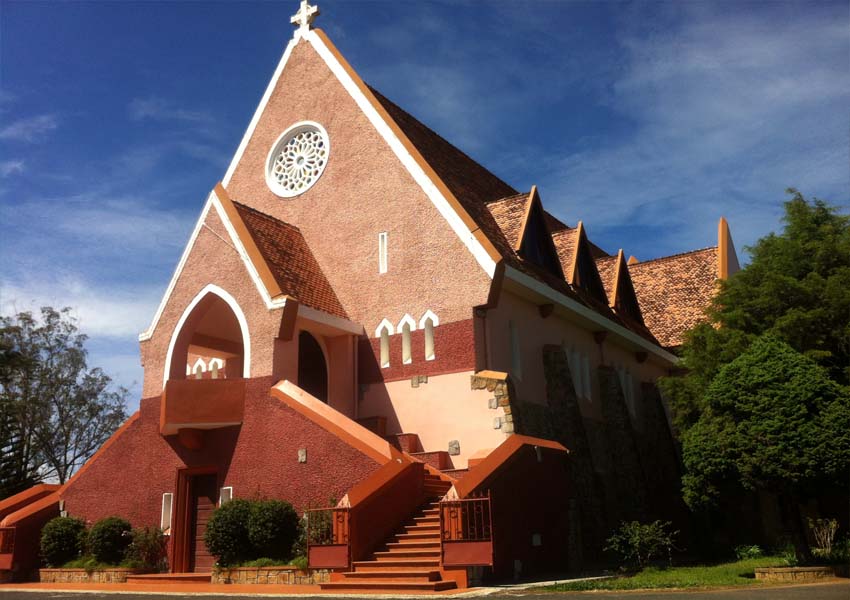 Domaine de Marie Church of Notre Dame Territory with a long history and architectural design is very harmonious attractions are ideal for travelers.
Domaine de Marie Church of Notre Dame located at the Territory address No.1, Ngo Quyen St., Ward 6, Da Lat. The center of Dalat is about 1km, Domaine de Marie Church, also known as Vinh Son church (as is the chapel of the Daughters of Charity Soeurs Vincent), churches Mai Anh (because previously this area there are apricot cherry variety).The church was built in 1938, by 1943 it completed. The entire amount of building churches discretion Lady Jean Decuox Indochina stood out donations from parishioners. She is a person with great work in building up the church today. During the trip from Saigon to Prenn Pass, she had an accident and died on 01.06.1944, at which time her 40-year-old. Her tomb was built behind the church, in the airy premises, with the vast variety of flowers are grown here.With an area of 12ha, the church was built in the style of the hollow Highlands, outside the European style, a harmonious combination between Europe and Asia. Roof system is shaped like the hollow of the Central Highlands ethnic minority people. The roof slope is quite large, red tile production in Vietnam. Odds sophisticated manufactured wood contributes to the formation of an interior space of the church. The windows of the church roof protruding from the roof just created large charming accents for a fairly large area of the roof, just a place to put the stained glasses (originating from France) lighting for additional sanctuary space shimmering, magical. Inside the church is a statue of Our Lady standing on a globe carved with patterns of women in Vietnam, due JONCHERE - a French architect who designed, weighs 1 ton 3m high, made in 1943 and by the full Lady Indochina Decoux offerings. The space inside is spacious and airy, visitors can visit and take pictures here.Cathedral started construction time no bell tower. Currently the church has the bell tower; the tower is placed directly behind the Main Hall with small bells.
Behind the church is an architectural complex designed in modern style with three 3-storey blocks of the Sisters of Charity, surrounded by a garden of walls painted in yellow, red tiled roofs.Before 1975 the church is the monastery of nuns for more than 50 mostly Vietnamese people here abbot monks did social work opened orphanages, kindergartens, primary schools and teaching French program sports training school.
After 1975 the chapel and monastery two blocks other facilities were used for the common good, the sisters raised a lot of orphans and teaching occupations like weaving, embroidery, painting, etc. To the latter the Kids are useful to society.
Currently, the church became the center of attention when the tourists to Da Lat, the church annually attracts over 1 million visitors at home and abroad come here.
Domain de Marie Church